Le Clos du Crosex Grillé
A great wine reflecting its unique terroir
The Clos du Crosex Grillé (meaning 'sun trap', 'rotisserie' or 'valley of fire') is located on an extension of the Yvorne hillside, in the Commune of Aigle. The vineyard sits on the side of the hill, surrounded by forest. Of the total 2.6 hectares, 2.2 hectares are planted with vines. This spectacular vineyard has steep terraced slopes of up to 500m in altitude. The vines grow in deep gravelly soil which rests on a limestone substrata of the lias. Approximately 17,000 bottles are produced each year, of which two thirds is Chasselas.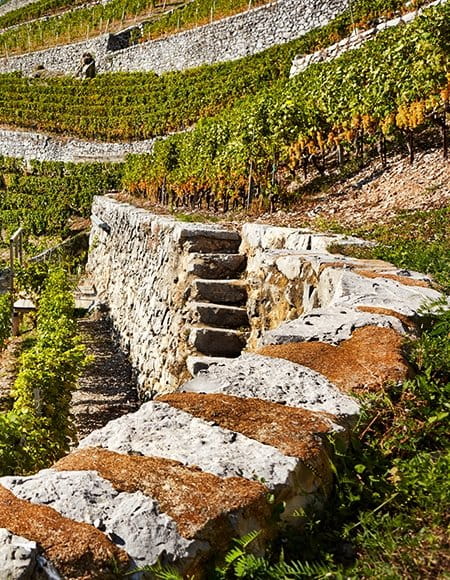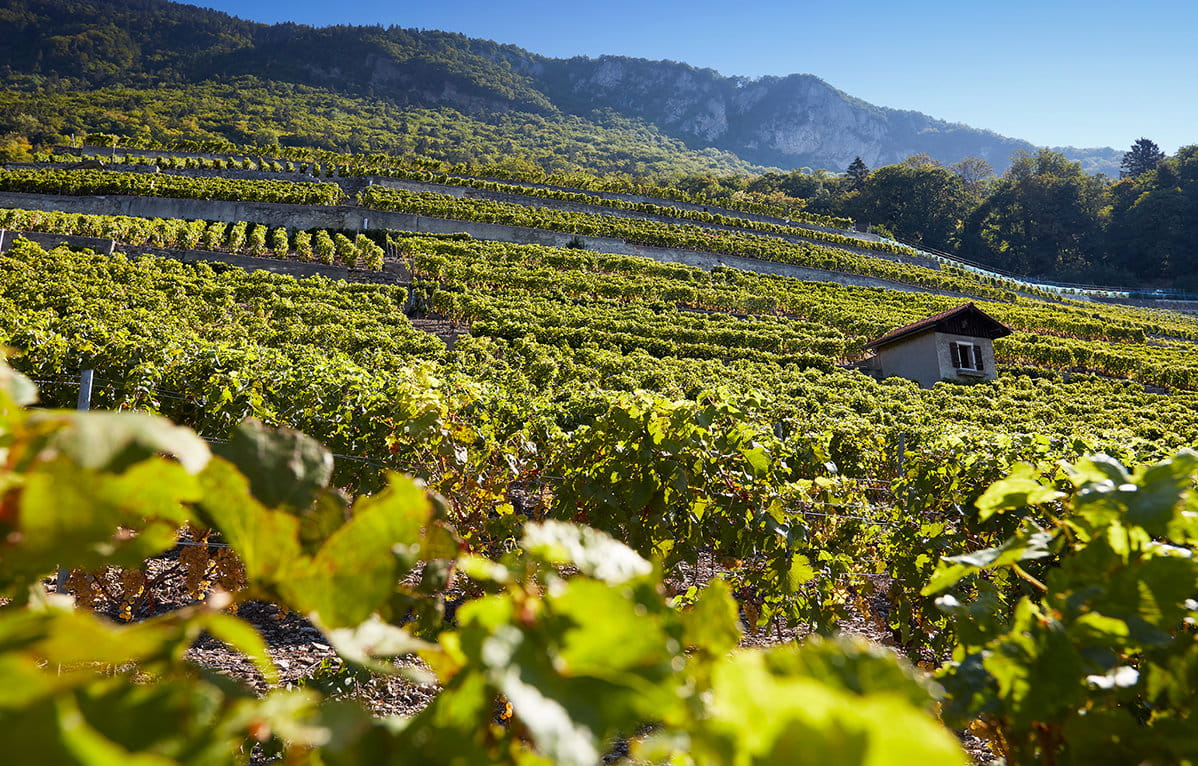 A page in history
In 1837, a young English noblewoman, Susan Churchill, arrived in Switzerland where she met the great love of her life, Aimé Cuénod, the son of a pastor who had made his fortune in finance. He bought her a winery: the Clos du Crosex Grillé, which stayed in the family until 1938. The winery was subsequently owned by a newspaper magnate, who appointed winemaker Paul Tille to run the domaine. Tille himself bought the domaine in 1980 and ran it until 2002. One of his apprentices, Bernard Cavé then purchased the domaine in partnership with Phillipe Gex. Together they developed the vineyard until Phillipe bought out Bernard so that Bernard could concentrate solely on winemaking.
The art and style of le Clos de Crosex Grillé
The Clos de Crosex Grillé Chasselas "Cuvée des Immortels" is distinguished by its subtlety and remarkable vinosity. Almost all fermentation (95%) takes place using indigenous yeasts. The wine matures on its lees and a proportion is aged in specially designed amphorae. The result is an elegant and refined wine with a distinct minerality, in gentle harmony with the perfectly ripened fruit. Irresistibly charming, three or four years of ageing will encourage this delicate, tender wine to blossom further.

Syrah "Cuvée Excellentia" is an elegant wine, showing exuberant aromas of violet and black fruits, alongside hints of pepper and sweet spices. In the mouth, the wine is plump and generous. The slight hint of wood, silky tannins and fine texture all underscore the distinctiveness of this wine. A decade of ageing will only improve its quality.

The estate's historic cellars are located three kilometres from the Clos du Crosex Grillé vineyard. The cellars were acquired by Andre Hoffmann in 2019 and investment in both new equipment and new technologies will allow the winery to benefit from the best of modern winemaking.

It is no surprise that Le Clos de Crosex Grillé, belongs to the collection "Mémoire des Vins Suisses" (MVS), a remarkable storage bank of some of Switzerland's best wines, selected for their ageing potential.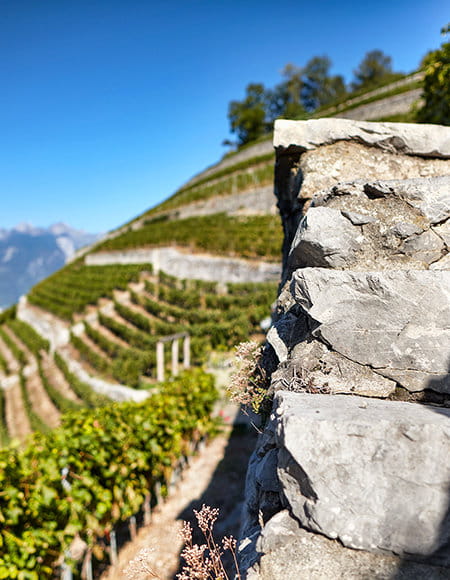 Blood, Sweat & Tears - "even if the vine doesn't draw blood or tears from you, without a doubt it demands a great deal of sweat from the wine grower!"
Churchill